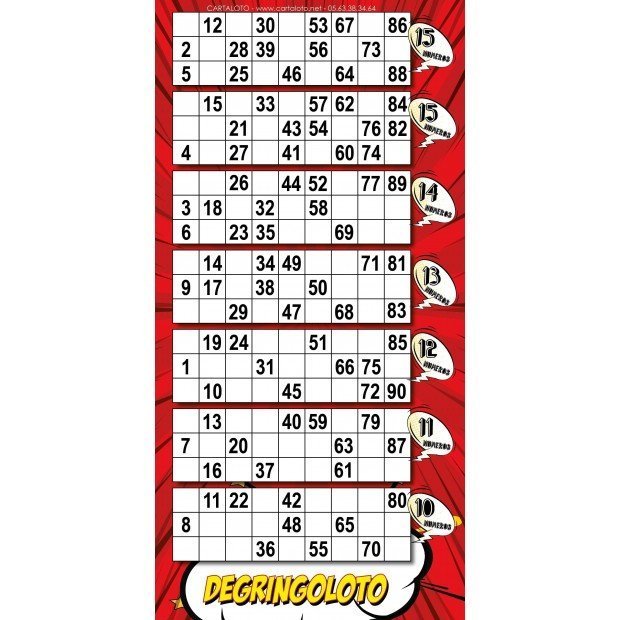 Dégringoloto
Win the jackpot before it all comes tumbling down!
An unusual bingo game with 7 grids! You will find 15 numbers in the first two grids as on most bingo tickets... As you go further down the grids, the number decreases from 14 down to 10 in the final grid. The chances of winning become quicker and tighter as you move further down the grids as there are fewer numbers to mark off. To have a chance to win, you need to find 13 to 10 numbers from grids 3 to 7, respectively. Award larger prizes on the grids with the most numbers, as it will be more difficult to mark off all the numbers. The grids are printed on single-use paper and players can play with dabbers or bingo chips.
The lower the grids go, the fewer numbers there are to be found:
15 - 14 - 13 - 12 - 11 then 10 numbers on the bottom grid on this special game.
Unusual bingo games with 7 grids and bonus numbers.
Play with single, double and full house winning patterns. 
Designed & manufactured in our workshop in France.
Printed on FSC-certified single-use recyclable paper.
Features
Reference:

JCDL7G

Game dimensions (H x L) :

305 x 152 mm

Square dimensions (H x L) :

36 x 117 mm

Square dimensions (H x L):

12 x 13 mm