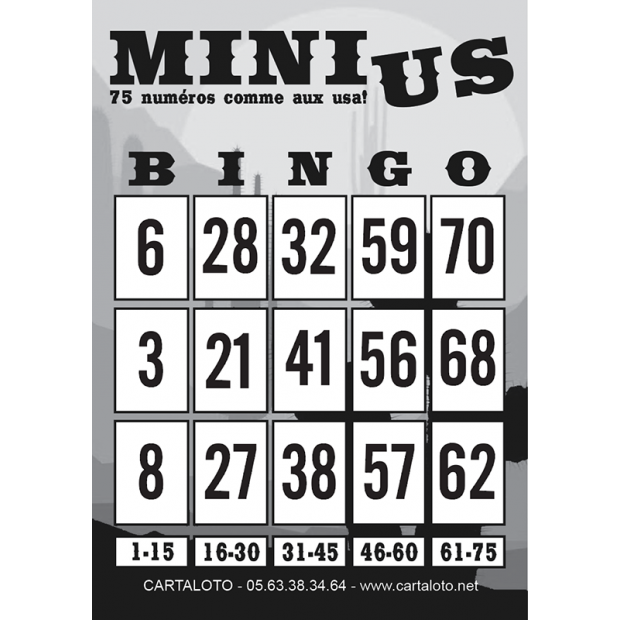 Mini US
Do you want your next bingo event to be original? How about an American theme? Play bingo with this special mini-game and shake things up American style! Mini US games are ideal for diversifying your traditional games and making your bingo nights more lively. They are smaller and faster to play than American Bingo.
The Mini US is a variant of American Bingo however the grid is smaller, rectangular and has 15 squares instead of 25. The word "BINGO" is written at the top and each letter appears above each column, which allows the host to announce the corresponding letter before the number. The Mini US is played with 75 numbers like in the USA instead of the 90 numbers commonly found in Europe. It is the miniature version of American bingo. 3 lines of 5 numbers to win the jackpot.
Play the American way with this game! Mini US is played like 75-ball bingo: single-line patterns to win which can be horizontal and vertical. American or 75-ball bingo can also be played with a full house pattern. There are many winning patterns. Mark a "V" for Victory, a pyramid, a square, a cross, corners or whatever you want to put in place before the game starts.
US Bingo will be a great addition to your event! Our other recommended games include American Bingo and Dollars Party.
Printed on single-use paper.
 Played with dabbers or bingo discs.
 Discover a fun and interactive game that will allow your players to break out of their normal playing routines!
Features
Reference:

JNMUS1-00

Delivery:

48hrs

Couleurs:

White/Yellow/ Blue/ Green/ Pink

Support:

80 g/m2 eco-friendly paper

Quantity/Pack::

500 games

Weight:

300g

Game dimensions (H x L) :

100 x 70 mm
More on the subject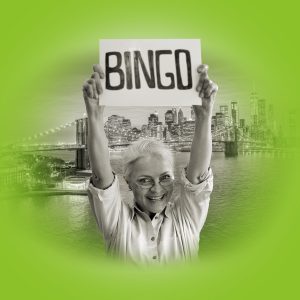 #Loto passion
Jeu de bingo : une plongée dans l'histoire de ce jeu populaire
Qui a inventé le jeu de bingo et depuis combien de temps existe-t-il ? Si vous êtes un passionné de jeux de hasard et de loterie, ou si vous êtes nouveau dans le monde du loto et du bingo, vous avez sûrement entendu parler du bingo. Ce jeu est apprécié dans le monde entier et […]